Joey Mercury's injury following a Ladder Match at Armageddon [2006]
What originally began as a standard tag team match between MNM and The Hardy Boyz became a Tornado 4-Way Ladder Match featuring the two aforementioned teams as well as London & Kendrick as well as William Regal and Dave Taylor for the WWE Tag Team Championships. During the throws of the match, Matt Hardy and Joey Mercury grappled over two ladders, prompting Jeff Hardy to leap off of the top rope onto the ladder, slingshotting the ladder upward into the skulls of both Matt and Joey. A move that had been done in many ladder matches before, only this time, the result was more brutal than anyone in the match could have predicted.
The move caused the ladder to drive upward into the orbital bone and nose of Mercury, shattering several bones and effectively rearranging Mercury's skull. He was immediately rushed to the hospital after losing a lot of blood, and received 5 stitches on the inside of his nose and 15 stitches on the outside.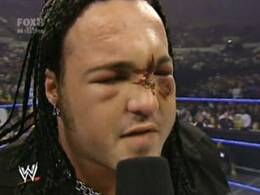 This began a feud with The Hardy Boyz that lasted through the beginning of 2007. Joey started wearing a face mask when he wrestled, and despite the intention to injure Matt and Jeff in every match, they were never able to defeat the Hardyz, and Joey was released from his WWE contract in March.
I like to keep this photo handy on my cell phone and show it to people who say ignorant shit like "Wrestling is fake, nobody REALLY gets hurt."
perversionsofjustice reblogged this from shitloadsofwrestling and added:

I remember watching this match…seeing that still makes me queasy